Need a break from city life? Park your car and head into nature. Enjoy the view from above on the trails at Elysian Park, the oldest park in the city of Los Angeles; you can see the Golden State Freeway, Dodger Stadium, the San Gabriel Mountains, and more from the hilltops.
Elysian Park is a public park in Los Angeles, spanning 600 acres at 835 Academy Rd, and is home to the Grace E. Simons Lodge and Memorial Sculpture, the Portola Trail Historical Monument, and the Chavez Ravine Arboretum. It's poplar for hiking, biking, and walking trails. You can also hang out at the park to use the BBQs, picnic areas, playground, and baseball fields.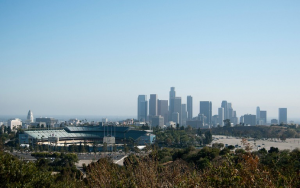 Photo Credit: https://www.welikela.com/free-places-breathtaking-views-los-angeles/
Check out the views from these places:
Portola Trail: Get ready for views of Mount Washington, Glassel Park, and Crocodile Rock as you make your way through the Portola Trail in Elysian Park. This trail takes five miles to complete and will guide you from the southwest side of the park to the northwest side. One fifth of the way through this trail, you will hit Buena Vista Point. At this viewing area, you can have a picnic, enjoy the gardens, and take in the meadow. Along the way, you'll also cross the Elysian Reservoir Grand Point View Area and the Marian Harlow Gardens.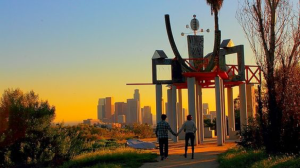 Photo Credit: https://www.pinterest.com/pin/143552306848894678/
Hiking Elysian Park West Loop: Explore some of the views at the park on this beginner's level trail. It's also dog friendly, so be sure to bring your furry friends with you! This trail, starting at Stadium Way and Elysian Park Drive and near Grace E. Simons Lodge, allows you to explore the northwest portion of Elysian Park. You'll be able to spot the valley and downtown Los Angeles from up there while walking this loop.
Wildflower Trail: This three-mile-long trail will take you to views of the San Gabriel Mountains and the Verdugo Mountains. This trail, at 1025 Elysian Park Drive, starts near the Grace E. Simons Lodge. As you make your way, you'll climb up to 200 feet in elevation. Don't forget to stop at the garden halfway through the trail, and enjoy the beautiful wildflowers!
Real Estate Unlimited is a real estate agency that specializes in the buying and selling of homes in Los Angeles. Interested in living near Elysian Park and being a part of the community? Feel free to contact us and view home listings in Elysian Park on our website.