Los Angeles' sprawling, sunlit environs are home to stunning parks and nature areas. The Elysian Park neighborhood of Los Angeles takes its name from Elysian Park proper, the ranging green area that surrounds Elysian Park's quiet suburban streets. Elysian Park is the oldest in Los Angeles – and at 600 square acres, it's the second-largest in the city. In this post, we're taking a virtual tour!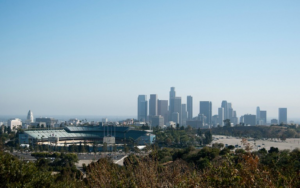 Photo Credit: We Like LA (https://www.welikela.com/free-places-breathtaking-views-los-angeles)
Lay of the Land
The park wraps around the Elysian Park neighborhood to the north. To the east, Elysian Park is bordered by Lincoln Heights. Los Angeles' vibrant Chinatown neighborhood lies directly south, and the historic Echo Park neighborhood runs southwest, west, and northwest. Elysian Park is less famous than Runyon Canyon Park, but its central location and gorgeous scenery have made it a local hotspot.
Click here to read about more fun things to do in the Elysian Park neighborhood.  
Steeped in Los Angeles History
Elysian Park has played a role in Los Angeles history from the very beginning – at the southwest corner of the park visitors can still see the location where the Portola Expedition first gave the Los Angeles River its name. The first European explorers to see inland parts of Southern California camped in Elysian Park, and you can still find the Portola Trail Campsite at the Meadow Road park entrance.
Local Favorite
Elysian Park is popular with Los Angeles residents because of the array of amenities and pastimes the park includes. In addition to multiple jogging and hiking trails and a wealth of outdoor areas that are perfect for soccer games and capture the flag, Elysian Park incorporates multiple indoor sports facilities.  Check out Elysian Park Recreation Center and the Grace E. Simmons Lodge.
Chavez Ravine Arboretum
On the west side of Stadium Way near the Grace E. Simmons Lodge, the Chez Ravine Arboretum is the first and oldest arboretum in Southern California. This historic nature park was founded in 1893 by the Los Angeles Horticultural Society, and many of its original rare trees are still standing. Today you can see more than a hundred varieties of rare trees from around the world.  Admission to the Arboretum is free of charge.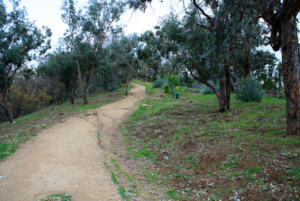 Photo Credit: Modern Hiker (https://www.modernhiker.com/2012/01/03/hiking-elysian-park-west-loop)
Angel's Point Outlook
Angel's Point offers a breathtaking view of Downtown Los Angeles, with Los Angeles Stadium perfectly in frame. You can reach Angel's Point from a trailhead at the eastern corner of Elysian Park drive.  The hike leads you on a rolling 2.8 mile uphill walk through lush greenery, including multiple overlook views.  At the 0.4-mile mark, you'll have a clear view all the way to the San Gabriel Mountains. Consider hiking Angel's Point in the late afternoon for a premier view of the skyline at sunset.
Click here to read about more scenic outlooks in Elysian Park.  
Picnic Central in Central L.A.
Elysian Park is a wonderful place to plan a summer afternoon picnic. Whether you opt for the Buena Vista Meadow Picnic Area, the Carob Tree Grove Picnic Area, the Ficus Grove Picnic Area, Bishop Canyon, or the Monticello De Leo Politti Picnic Area, you'll have a spectacular setting for your al fresco meal.  Each area is also convenient to hiking trails, sports fields, and barbecue pits for an authentic Los Angeles asada.
Monticello De Leo Politti Event Area
This outdoor area can be reserved for private parties, so it's the perfect place to plan a wedding or a party. With easy access along Stadium Way and a clear view of the Los Angeles skyline, Monticello De Leo Politti makes a spectacular venue for your outdoor event.
Whatever you're interested in, Elysian Park offers a wealth of possibilities for outdoor recreation – and the historic Elysian Park neighborhood is a great place to plan a unique day trip. Whether you're vacationing in the city or scoping out a new neighborhood, don't miss a visit to this beautiful Los Angeles park!
Are you interested in learning more about the unique parks and neighborhoods in Los Angeles?  At Real Estate Unlimited, we pride ourselves on our in-depth local knowledge, providing our customers with insider information on neighborhoods throughout the Los Angeles Valley.  Contact us to learn more about emerging neighborhoods in this historic region today!