Named for the oldest park in Los Angeles, Elysian Park is a small historic neighborhood in Central Los Angeles. The park, which is popular for its scenic views and sunlit outdoor spaces, wraps around Elysian Park on the northern side.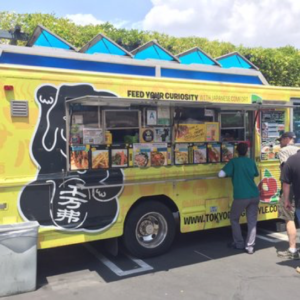 Bordered by Los Angeles' lively Chinatown and the hip, eclectic Echo Park neighborhood, Elysian Park is emerging as an attractive prospect for younger people looking to settle in the area. This mellow garden neighborhood also has a lot of delicious food to offer. Today we'll explore some of the best eateries in and around Elysian Park!
Click here to read all about Elysian Park proper, the first public park established in Los Angeles.  
Kendall's Brasserie
Carrying on the Parisian brasserie tradition in Southern California, Kendall's specializes in comfort food like baked macaroni with sharp cheddar cheese, steak frites, and a short-rib hash with poached eggs. Kendall's is also a popular bar for locals heading out to a show, and their cocktails include a "Hemingway Daiquiri" with house-made grapefruit cordial, and a "Oaxacan Old Fashioned" with chocolate-chili bitters.
Tokyo Doggie Style
Los Angeles is famous for its rich tradition of cultural diversity, and what better example than a Japanese-influenced hot dog truck? Parked daily in the Elysian Park neighborhood, Tokyo Doggie style serves up an impressive menu of Japanese treats and juicy hot dogs, including the popular "Bacon-Wrapped Hawaiian Terrier-ki Dog." If you'd like to try a more traditional Japanese lunch, try a Ramen or Rice Bowl or a side of seaweed salad. Their lychee lemonade provides the perfect balance of sweet and tart for a hot summer afternoon, and they also offer a selection of refreshing boba teas.
Pho 87
If you're in the mood for succulent pho and crispy golden egg rolls, Pho 87 has got you covered. Their pho – rice noodle soup with rare beef in a rich savory broth, served with a side of fresh greens and hot peppers – is a local fan favorite among Vietnamese cuisine aficionados. Vermicelli with marinated grilled pork is another popular menu option, and you can pair everything on the menu with an authentic Vietnamese Iced Coffee or a fizzy lemonade soda.
Eastside Market Italian Deli
The Eastside Market Italian Deli is one of the few remaining authentic Italian delis in Central Los Angeles. If you're looking for a spicy salami sandwich or a creamy, pistachio-studded cannoli, stop into the Eastside Market. Since the Eastside is so close to Elysian Park, their antipasti menu should provide you with all the inspiration you need for a delicious picnic al fresco italiano.
Sage Organic Vegan Bistro
This popular vegan restaurant prides itself on a diverse array of tempting vegan dishes, including a delicious selection of vegan-friendly appetizers. Try their deep-fried artichoke hearts, "mozzarella sticks" made with salty hearts of palm in crispy breading, or spicy-hot buffalo wing-style cauliflower. Entrees at Sage are just as flavor-forward, including jackfruit nachos and quinoa corn cakes with avocado and spicy cabbage relish.
Elysian
The Elysian is an elegant brasserie with an airy garden patio and a rotating selection of fresh, inventive dishes with a Mediterranean flair. Their peach and arugula salad is perfect for a light lunch. For a heartier option, try a plate of tender ricotta gnocchi or a peppery roast pork collar with juicy watermelon. The buttermilk blackberry cake is a perfect finish to a creative locally-sourced meal.
Au Lac
Au Lac offers up refined vegan raw-food dishes with an Asian twist, like their roasted mushrooms with Thai basil. Their "Norrito," a vegan taco on a bed of nori seaweed, is a flavorful light appetizer. Au Lac also offers a vegan twist on pho with anise and clove broth and soft bean curd. Savory noodle plates combine fresh, healthy ingredients with traditional stir-fry, including a garlic noodle dish with apple sage soy sauce.
Click here to read about dining options in nearby Echo Park.  
Whatever you're looking for, you can find a delicious and unique meal in the Elysian Park neighborhood.  Make sure to plan a day trip to the heart of Los Angeles so that you can sample everything on offer!
Are you interested in learning more about Elysian Park and other emerging Los Angeles neighborhoods?  At Real Estate Unlimited, we take pride in our in-depth local knowledge, providing expert advice on an array of properties in and around Los Angeles. Contact our team for a consultation today!