Just the right size for a day trip, Highland Park is a mix of hip new locales and authentic cultural landmarks. In this post, we'll help you plan the perfect outing in this vibrant historic neighborhood.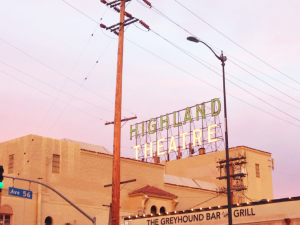 Photo Credit: Gold Line Church (https://goldlinechurch.com/tag/highland-theater)
Morning:
Café de Leche
Start your day at this bustling coffee shop. If you're in the mood for a pick-me-up, the Horchata con Espresso is a creamy twist on two classic drinks. Caffeine-free customers can enjoy specialty teas like Los Tres (a blend of chamomile, rosehip, and peppermint) or choose from a selection of bakery treats. If you're on a family outing, Café de Leche boasts a play space with games and toys.
Pop Hop Bookstore
Pop Hop is a small but expertly-curated selection of literature, art, printmaking, and small-press books. The quirky, friendly location is the perfect place to browse, and you can pick up souvenir postcards handmade by local designers. If you're interested in learning about printmaking, check out the small studio in the back, where associates offer classes in everything from silkscreen to zines.
Wombleton Records
Don't be fooled by its steampunk exterior – Wombleton Records is the place to go for rare LPs and 12" singles. The owner is a world traveler, and Wombleton's catalog reflects the same eclectic, international vibe. Their Facebook page lists events with veteran DJs and musicians, as well as frequent trunk sales from the owner's latest excursion abroad.
Lunch Break:
With so many delicious options to choose from, it's hard to go wrong in Highland Park. We've highlighted a few of our favorites:
Galco's Old World Grocery
Galco's was founded in 1897 as an Italian deli and grocery store. In 1995, son John F. Nese took over from his father and introduced a new specialty: small-batch sodas. At the Creation Station, a towering rack of Italian syrup flavors, you can even make your own personalized drink. Whether you're in the mood for a spicy ginger beer or a traditional sarsaparilla, you'll find something to quench your thirst.
Galco's also hosts events like their annual Summer Soda Tasting this July 31, where you can rate new soda flavors and enjoy live music. Recently, Atlas Obscura engineered "Pop and Plumage," a collaboration between Galco's and the Moore Lab of Zoology. Galco's authentic deli counter is still going strong, so you might want to pick up some antipasti to eat in the park.
Good Girl Dinette
The Good Girl Dinette is a stellar example of the culinary and cultural fusion that is so characteristic of Highland Park. Billed as a combination of "American diner" and "Vietnamese comfort food," the Good Girl's repertoire includes delicious banh mi and succulent bowls of pho, as well as creations like black pepper pork confit and maple coconut bread pudding.
The Greyhound Bar and Grill
If you're in the mood for more traditional fare, the Greyhound Bar and Grill offers a tasty bar and sandwich menu as well as an impressive selection of craft beers divided into user-friendly categories like "Fruity" and "Crisp and Clean." If you hit the Greyhound early in the day, you can peruse a breakfast menu with options as varied as a hearty English breakfast and eggs benedict on homemade corn bread. Right next door is the historical landmark Highland Theatre, which offers three- and four-dollar matinees.
Afternoon:
The Old LA Certified Farmers' Market
Highland Park boasts beautiful weather year-round, so your daytrip should include plenty of outdoor stops. The Old LA Certified Farmers' Market is open all year, every Tuesday from 3 pm to dusk.  In addition to fresh produce, you'll find cupcakes, salsa, honey, beeswax candles, and organic soap.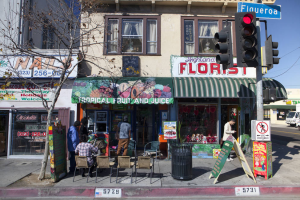 Photo credit: Airbnb (https://www.airbnb.com/locations/los-angeles/highland-park)
Figueroa Street
The OLACFM is also located just one block from busy Figueroa Street, a downtown thoroughfare home to Chez Antoine and Penny's Burgers. Head to Tropical Fruit and Juices for a "vampiro" – a delicious Mexican cocktail that combines tequila and sangria – or a healthy detox smoothie.
Scoops Ice Cream Shop
Scoops offers a daily rotation of inventive flavors like mascarpone oreo and honey ginger. If you're looking for a more complex concoction, try their green tea sake ice cream.  Consistently rated high on customer service and atmosphere, Scoops is the perfect place to get out of the afternoon sun.
Evening:
Avenue 50 Studio
Avenue 50 Studio is a vibrant gallery that showcases work by emerging artists. With frequent events and exhibitions, you're sure to see something new on every visit. Avenue 50 Studio also hosts workshops for aspiring creators in techniques like collage and life drawing.
La Cuevita
La Cuevita offers spicy Mexican food and cocktails, with a focus on imports like tequila and fernet. DJs spin nearly every night, so you can finish up your trip to Highland Park with dancing. Taco Tuesday serves up free tacos with cocktails. On Sunday, catch live jazz from local musicians.
The York
Can't decide whether to go for drinks or a sit-down meal? The York has got you covered. Their deluxe craft beer menu and extensive wine list will please every palate, and so will their menu of reinvented comfort foods like sriracha wings with honey and cilantro.
With its exuberant downtown and thriving artistic and culinary scene, Highland Park offers something for everyone. Visit this unique Los Angeles neighborhood for a truly memorable cultural experience! If you are moving to Highland Park, feel free to contact Real Estate Unlimited.