Looking for some adventure in Los Feliz? Try finding all of the hidden staircases in Los Angeles, starting with the Berendo Stairs that lead to the Griffith Observatory. Spending a day on a walk looking for a hidden staircase is a great opportunity to get some exercise and mix up your daily routine.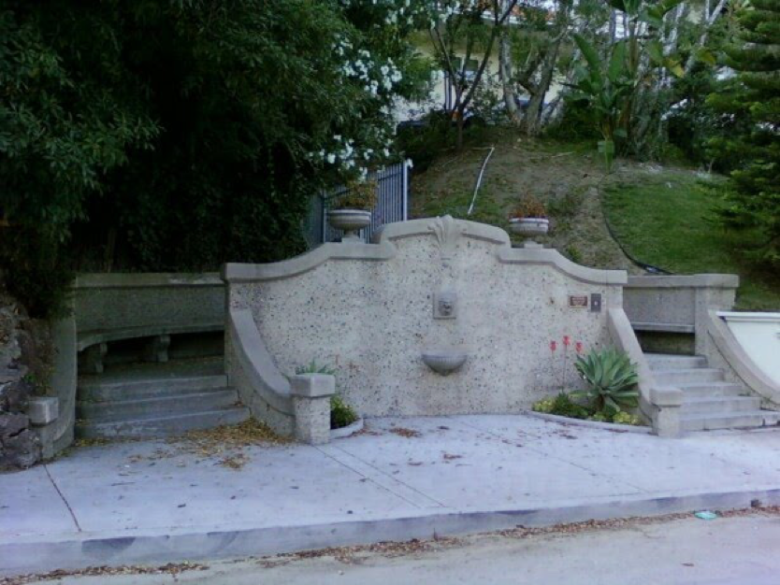 Photo Credit: https://eat-n-explore.blogspot.com/2010/07/berendo-stairs-to-griffith-park.html
Los Feliz is a neighborhood in Los Angeles that covers approximately two and half square miles. It is bordered by the Santa Monica Mountains and Hollywood. It was originally Rancho Los Feliz, and it eventually became the birthplace of Mickey Mouse when Walt Disney drew the famous character in his uncle's garage. Los Feliz is also the home to Disney's first animation studio and many celebrities who live there. You can view two of Frank Lloyd Wright's original designs in Los Feliz: the Ennis House and the Hollyhock House.
The entrance to the Berendo Stairs (created in 1924) is located at Berendo Street and Cromwell Avenue. The stairs are recognized by the city as having historical status. There is a resting stop at the midpoint of the stairs (there are 181 steps in total) where there are two benches to sit on. This is a beautiful and romantic spot in the summer, covered by bougainvillea flowers.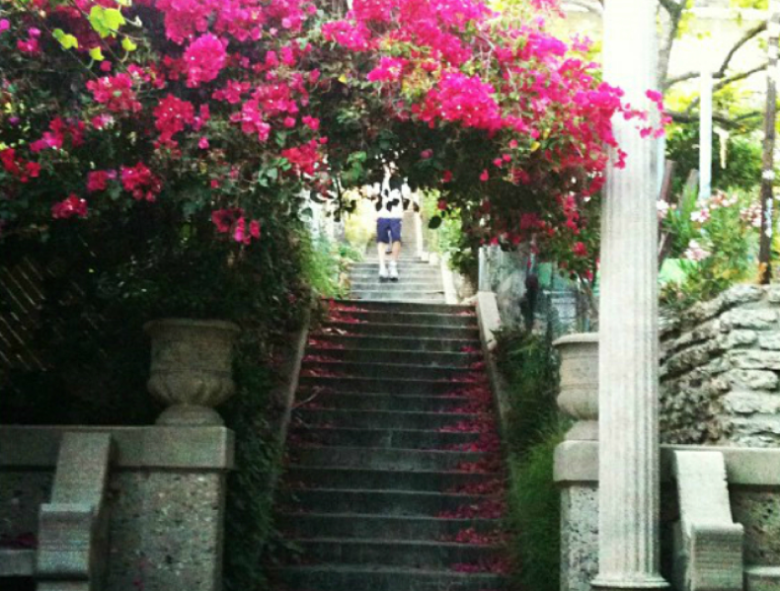 Photo Credit: https://www.discoverlosangeles.com/content/stairs-top
To get to the Griffith Observatory, make your way up the Berendo Stairs, go up a second set of stairs, and eventually you'll come across a dirt path that will take you to the observatory. From the Griffith Observatory, you'll be able to see the Hollywood Sign and Downtown L.A. Eat-n-Explore has some detailed directions here.
The Griffith Observatory, which opened in 1935 and was renovated in 2002, is named after Colonel Griffith J. Griffith. It covers about 3,000 acres of land and features an art deco interior and educational displays on astronomy. Admission to the observatory is free. You can also view the Ennis House from here, which was built in 1924 and was featured in the film Blade Runner.
If you haven't done so already, spend some visiting Griffith Park. It covers about 4,000 acres, and it has a lot to offer for those with different activities and interests in mind. People go to the park to play tennis, hike the trails, use the equestrian trails, have picnics, ride the train, and go golfing. You can also see the Hollywood Sign from the park, visit the Los Angeles Zoo, and see the Autry National Center. The park is open between 5:00 pm and 10:30 pm.
Here are some other "secret" staircases to put on your list as you explore L.A.:
-Music Box Steps
-Baxter Stairways
-Santa Monica Stairs
-Beachwood Canyon Stairs (This one is 800 steps!)
Have fun exploring the stairs in Los Angeles!
Are you interested in learning more about neighborhoods in Los Angeles and what they have to offer? At Real Estate Unlimited, it is our goal to share our expertise on the historic neighborhoods in Los Angeles, including the diverse landmarks, and the surrounding businesses, shopping, and dining to take advantage of. Call us today for a consultation!