Silver Lake, Los Angeles hosts a flourishing community of artists – which means that it has also become home to myriad landmarks and public sculptures, including colorful murals and other open-air artworks. One of its most unusual is a stunning hybrid of nature and artistry straight out of a modern fairy tale – or the surrealist charm of a Wes Anderson film. Read on for the enchanting story of the Chandelier Tree!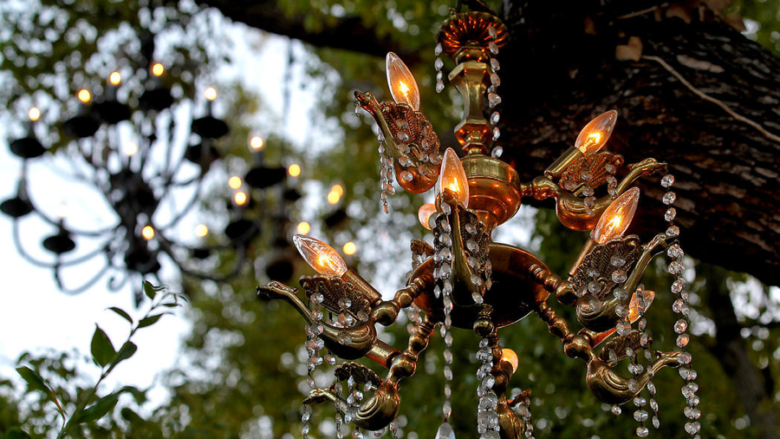 Photo Credit: Latimes.com
The Chandelier Tree is located on West Silver Lake Drive, in a sleepy, tranquil suburban neighborhood in the heart of Silver Lake, near the Franklin Hills. Over a hundred years old, this towering sycamore gets its name from the thirty vintage light fixtures suspended from its spreading branches. At night, the swarm of surreal elegance gives off a soft golden glow, as though a constellation of stars have come down to roost in the sycamore's branches.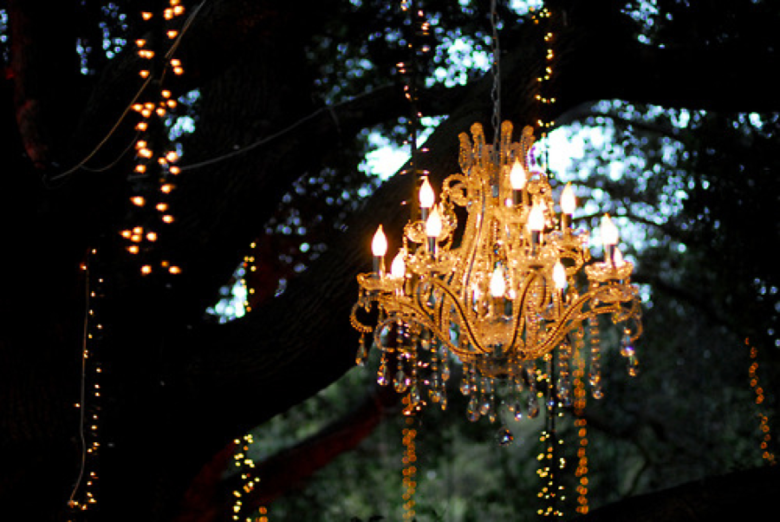 Photo credit: Welovedates.com
The tree was adorned by professional artist and designer Adam Tenenbaum, whose home shares a yard with the Chandelier Tree. He launched his illuminating endeavor nine years ago with chandeliers salvaged from a set construction and decoration job. More fixtures were foraged from swap meets or donated by friends. They were then restored, polished, and rewired prior to installation in Chandelier Tree's highest branches.
Tenenbaum has carefully arranged each lamp to reflect light onto the silvery leaves of the tree. The chandeliers are from several different eras and in several different styles, ranging from the classic tiered cut-crystal structure to a cascading spiral of art deco lanterns. Most of the chandeliers hang from branches that stretch out over Tenenbaum's property, but one 1920's antique swings out over Shadowlawn Avenue, bringing the public sculpture into public space. In addition to the thirty light fixtures that give the Chandelier Tree its name, Tenenbaum has also installed a hidden swing which visitors are welcome to sit on.
Click here to read about the best places to eat in nearby Los Angeles neighborhood Highland Park!
The tree has become a celebrated landmark in Silver Lake, and Tenenbaum's front yard has become an impromptu haven for the whole block, with residents stopping on the sidewalk to gaze up at the display. The tree is also a popular spot for romantic marriage proposals, dramatic wedding photos, and tourist selfies. Although the Chandelier Tree isn't a rentable venue, one or two couples have even used it as a dreamy backdrop for a wedding ceremony. The Chandelier Tree's dramatic backdrop has also inspired a handful of music videos. Tenenbaum's dream is for the Chandelier Tree to eventually play a part in a major motion picture – a fitting destiny for a glamorous Hollywood fixture.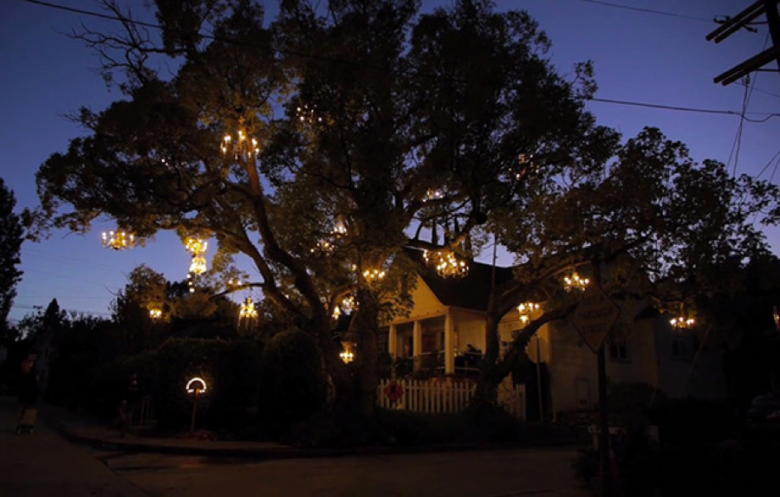 Photo Credit: Thisiscolossal.com
If you're interested in a longer stay – perhaps a honeymoon getaway or romantic weekend? – the Chandelier Tree house is listed on Airbnb! A craftsman building, the home is a work of art in its own right, and guests can stay in the separate cottage that sits in the back garden, an eclectic "apartment studio."
Click here to read about famous midcentury homes in Silverlake!
A labor of love, the Chandelier Tree is free to visit and open to the public – but you might consider slipping a few coins into the reclaimed 1970s parking meter Tenenbaum uses to collect donations. Your spare change will go to cover the costs of maintaining this dazzling light display, which adds a couple hundred dollars a month to Tenenbaum's electric bill. The curbside parking meter doubles as the installation's signpost, ornamented with seventeen light bulbs in a fan shape and a hand-painted sign reading, "Chandelier Tree."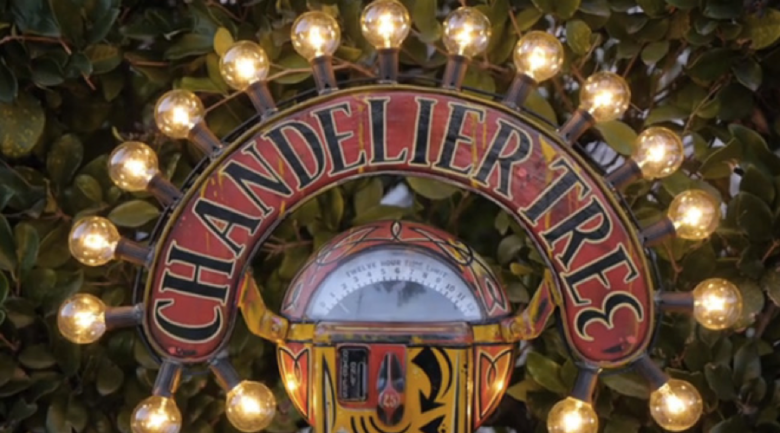 Photo Credit: blog.lightopiaonline.com
The lights go on at around six in the evening – a bit later in summertime – so stop by at nightfall to see this fabulous display of vintage crystalline luminescence.
Are you interested in learning more about the wealth of decoration and artistry on display in the Silver Lake neighborhood? At Real Estate Unlimited, we make it our mission to offer every client an insider perspective on the historic neighborhoods that make up Los Angeles, and we pride ourselves on our in-depth local knowledge of the diverse landmarks and icons that make the city such a magical place to live. Call us for a consultation today!