Echo Park Dining Guide
Echo Park rests in the beating heart of Los Angeles, and boasts a wide variety of dining options to keep that heart pumping! Echo Park's taste in food blends a plethora of cultural diversity mixed with trendy new developments. We've listed some of the best eateries in this bustling neighborhood so that you can get the best bites possible: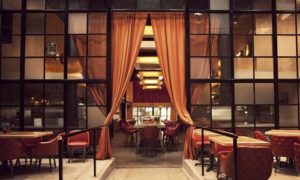 Photo Credit: Mohawk Blend
Mohawk Blend
Mohawk Blend is located in a 100-year old Vaudeville theater, and the new restaurant and bar aims to appeal to the young, chic crowd. This restaurant offers a full scale beer, cocktail, and wine offering to complement their brick oven pizzas, pub food, and seasonal salads using only California-sourced ingredients. The Fennel Sausage pizza puts classic tomato sauce with house-made fennel pork sausage, imported grana padano, shaved shallots, and oregano. For dinner, try their Mediterranean Platter which includes house made falafel, pita, veggies, red wine vinaigrette, olive tapenade, carrot hummus, and spiced eggplant spread.
The Park
The Park prides itself on a casual, friendly neighborhood environment. With low prices as a major selling point, this restaurant offer classic American cuisine with ethnic components. Try their Smoked Korobuta Pork Shoulder with ancho chile plum relish. Or go for the classic Park Burger, a vegetarian delight with lettuce, tomato, red onion, and mixed greens.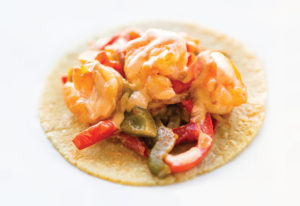 Photo Credit: Guisados
Guisados
Guisados takes its name from the classic Hispanic street vendor scene. Aimed at tugging on the nostalgic heart strings of Echo Park's large hispanic population, Guisados serves homestyle braises on handmade corn tortillas made to order with the tagline "Just the way my mom used to make them." Each taco costs only $2.75! The Steak Picado pairs flank steak with green bell peppers and bacon, while the extremely spicy Chiles Toreados offers habanero, serrano, jalapeno, and thai chiles on black beans.
Elf Cafe
Elf Cafe brands itself as an elegantly vegetarian restaurant, avoiding not only meat products, but any synthetic dishes made to look or taste like meat! Boasting a wide-range of Mediterranean or Moroccan styled dishes, Elf Cafe is a treat for the vegetarians of Echo Park. Elf Cafe's Fattayer with Saffron and Sauce Africaine is made with puff pastry, and the chef's weekly filling market vegetables, and the Kofta with Skordalia and Black Quinoa includes seared king oyster mushroom, preserved lemon puree, herbed yogurt, black eyed pease, aleppo baked dates, fried cumin almonds, and marinated shallots.
Button Mash
Button Mash is a bar, arcade, and restaurant – play of classic arcade games while you eat! Button Mash's cuisine is Asian fusion, featuring fried chicken wings, tofu balls, and cheeseburgers. Try the Spicy Korean Pork Belly Sandwich on a sweet roll with chili powder and gochujag onions.
Masa
Masa of Echo Park prides itself on being a Mom & Pop restaurant serving Chicago-style pizza and comfort food, combining Italian, French, Spanish, Cuban, and Midwestern American cuisine. Built in 1922, the building has operated as a bakery and cafe for over eighty years! Try their classic Chicago deep dish, or the Penne Orleans, featuring blackened chicken breast, spicy arabiatta sauce, crispy mushrooms and shredded parmesan.
Check out these creative and varied eateries in the bustling center of L.A. today!
Echo Park is a exiting blend of new and old cultures, and the perfect place to live in Los Angeles. Since 1980 Real Estate Unlimited has been helping potential homeowners in Echo Park find the property right for them. If you have any questions about Echo Park cuisine, or would like help with your real estate needs, don't hesitate to contact us!