At Real Estate Unlimited, we've decided to explore Eldred Street in Mount Washington to learn more about this legendary slope.
Built in 1912, and named after Delos W. Eldred, Eldred Street in Mount Washington is one of the steepest streets in the world. Eldred Street has a 33% grade and rises 219 feet in elevation. This long slope was made into a street before Los Angeles limited streets to 15% grade or below in the 1950s. That's actually less than half of the grade of Eldred Street!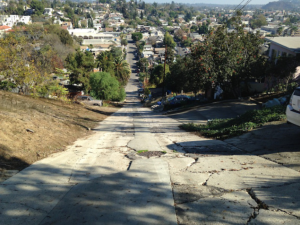 Photo Credit: https://socalhomeblog.com/2015/12/24/mount-washington-homes-for-sale/
Because of these limitations, a street this steep will never be built in L.A. again. According to Tom of the YouTube show Tom Explores Los Angeles, Eldred Street is the steepest drivable street in California. It's even steeper than any street in San Francisco! Even Fargo Street in Echo Park in Los Angeles does not have as steep of a grade as that of Eldred Street.
Mount Washington, a neighborhood in the northeast region of Los Angeles and the San Rafael Hills, is bordered by downtown L.A., Eagle Rock, Glassell Park, Highland Park, and Cypress Park. It was founded in 1909 and is surrounded by Mt. Washington, Mount Baldy, and the San Gabriel Mountains.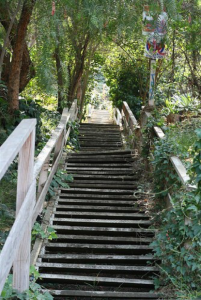 Photo Credit: https://www.modernhiker.com/2010/06/10/climb-some-stairs-this-weekend/
This steep slope runs between Avenue 50 and Cross Avenue. Many urban legends about scared motorists and runaway cars are associated with this famous road. In fact, Eldred Street dead ends, which means you have to go up and come back down the slope, whether you're prepared to do so or not! Luckily, locals are known to help scared tourists make the drive back down. Tourists often panic at the top of the street because they cannot see much farther than the front of their cars when traveling down.
Surprisingly enough, only special trash trucks can make their rounds on Eldred Street. These trucks are smaller than the normal ones, to avoid the risk of flipping over. Many trucks get stuck when trying to turn out of Eldred Street. Eldred Street is notorious for confusing visitors following their GPS, people trying to make deliveries, and the postal service. In fact, mailmen no longer make delivers on Eldred Street; instead, there's a group mailbox at the bottom of the street.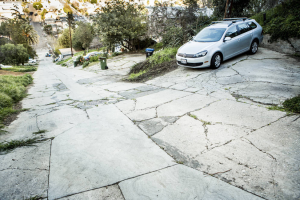 Photo Credit: https://www.airbnb.com/locations/los-angeles/mount-washington
At the dead end of Eldred Street, you'll find a set of wooden stairs that will lead you to Cross Avenue. Watch Tom Explores Los Angeles to find out more about this famous street. To find out more about Mount Washington, read more about the neighborhood by visiting Self-Realization Fellowship in Mt. Washington and the Southwest Museum of the American Indian.  
At Real Estate Unlimited, our dedicated team is here to help you find a home in Los Angeles, or help you sell your home. Feel free to stop by and search home listings in Mt. Washington on our website.