You may think it would be hard to escape into nature within the busy city of Los Angeles, but you'd be surprised at how many enjoyable activities there are to do in Elysian Park. Specifically, there are enjoyable hiking trails to try out here.
Elysian Park, located at 835 Academy Rd, Los Angeles, CA 90012, is open every day from 5 am to 9 pm. This park features baseball fields, BBQs, and picnic areas to enjoy with family and friends. You can also stop by the park to see the Chavez Ravine Arboretum, the Grace E. Simons Lodge and Memorial Sculpture, the Victory Memorial Grove, the Portola Trail Historical Monument, and the community garden. This park spans almost 600 acres and is not as crowded as the Griffith Park in Los Angeles.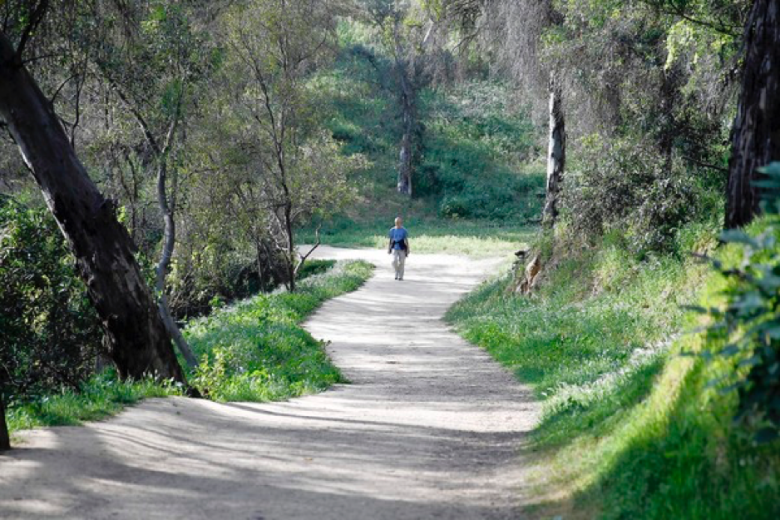 Photo Credit: https://articles.latimes.com/2013/mar/23/health/la-he-elysian-park-20130323
Elysian Park West Loop Trail: Located in the northwest area of the park and near downtown Los Angeles, this hike covers 2.4 miles and will take you up to194 feet of elevation gain. This hike is a good choice for beginners and is dog-friendly. It takes approximately one hour to walk it, and it is a nice hike at any time of year. To access the hike, park on the west side of Stadium Way and Elysian Park Drive. While on this hike, you can see the valley and the Grace E. Simons Lodge.
Angel's Point Trail: This is another beginner level hike that should take approximately one hour to walk. It is a good choice for any time of year, and it's located in the northern area of the park. The 2.8 miles will reach 200 feet of elevation gain.
There are some interesting stops along the way. On this trail, you will be able to see Hollywood, Dodger Stadium, the Golden State Freeway, Mount Washington, and the San Gabriel Mountains. You'll also pass a large rock painted to look like a dragon. This trail is also located close to the park's soccer fields and some of the BBQs.  You'll also notice public art, including the Grace E. Simons Memorial Sculpture by Peter Shire.
To reach the Angel's Point Trail, park on Elysian Park Drive and Stadium Way, and you can access the trail at Angel's Point Road and Stadium Way. Note, there are some steep areas on this walk, so keep that in mind when choosing a hiking trail.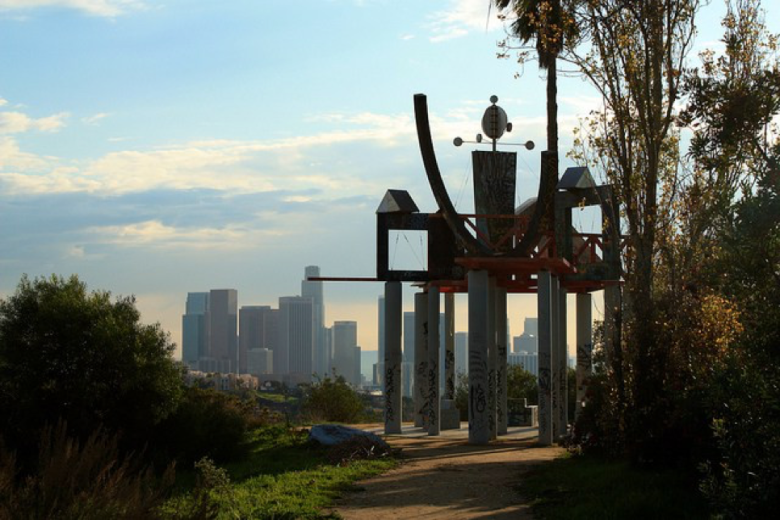 Photo Credit: https://www.modernhiker.com/2012/01/14/hiking-angels-point/
Wildflower Trail: Take a walk on the Wildflower Trail to see the Grace E. Simons Lodge, Verdugo, and the San Gabriels. This hike is located at 1025 Elysian Park Drive, it goes on for 2.8 miles, and it hits 200 feet of elevation. On this hike, you'll find a garden and yellow wildflowers when they are in bloom.
Portola Trail: This more advanced trail can be accessed from Grand View Drive and Park Row Drive. It takes 2.8 miles of walking to complete this trail, and it will probably take about 90 minutes to finish. Take this trail to spend some time away from busy city life. Note, there is a portion of the trail that is very steep, and it is recommended that you take a hiking pole with you for navigating these areas; this hike is not for beginners. Also, make sure you wear the right shoes.
To view homes in Elysian Park, feel free to visit the website of Los Angeles Real Estate Unlimited. Our experienced team would be happy to assist you with viewing property in Los Angeles, California.