Twice a week on Tuesdays and Saturdays, local farmers and vendors gather in Silver Lake to sell fresh produce, artisan bread and honey, farm-fresh sandwiches and tacos, and iced americanos. In this post, we'll give you the rundown on everything the Farmer's Market has to offer – and tips on how to beat the crowds and find the best organic products for your table!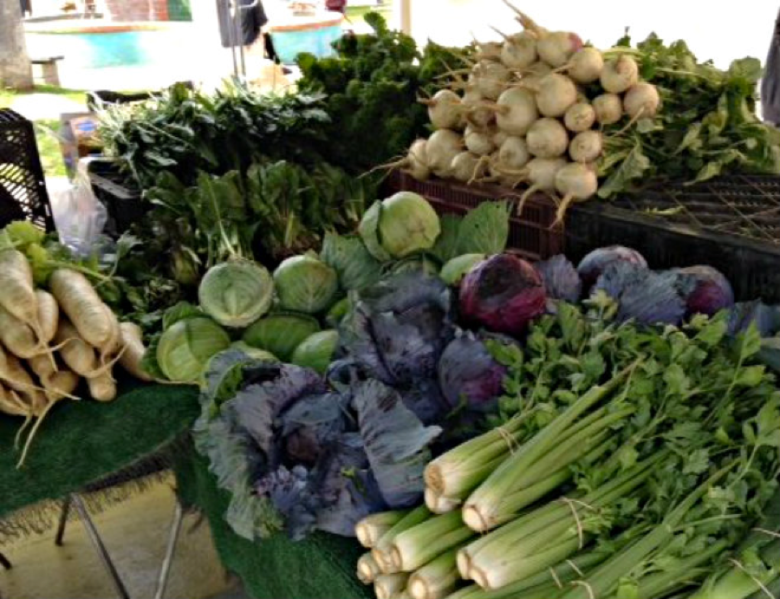 Photo Credit: The Eastsiderla.com
The Silver Lake Farmer's Market runs from 2:30 p.m. to 7:00 p.m. every Tuesday and from 9 a.m. to 1 p.m. Saturday.  The market springs up along an esplanade section at 3700 Sunset Boulevard, near the intersection of Sunset and Edgehill. This crossing is in the center of Silver Lake's Sunset Triangle, which is just east of Sunset Junction for visitors who want to linger in the area and visit a bistro or boutique at Sunset Junction proper.
Click here to read about weekly wine tastings at Silverlake Wine!
Due to Los Angeles' eternally summer-like climate, the farmer's market runs year round.  Although the Silver Lake Farmer's Market is somewhat smaller than other farmer's markets in the city, the quality and breadth of gourmet foods on offer more than makes up for the tidier footprint. Parking can be hard to find on Saturday mornings, which tend to be more crowded. Stop by early on Tuesday afternoons to avoid the rush.
As with most farmer's markets, the displays at Silver Lake focus on fresh local fruits and vegetables. Over the last few weekends, shoppers have carried home seasonal gems like golden beets, juicy heirloom tomatoes, Bing cherries, and frilled squash blossoms that can be deep-fried for an authentic Italian antipasto. Local farmers also sell organic eggs, milk, and cream. Fromagerie and delicatessen stall Ari's displays mason jars of goat cheese along with bowls of olives and salty feta in a variety of flavors – try the jalapeno goat cheese or sundried tomato feta. Since last year, Etheridge Farm has sold certified organic nuts alongside its fresh fruit selection.
If you'd like to snack and stroll, you can grab a sweet or savory crepe or a tamale before you start your shopping spree. The crepe stand has a "Saturday Special" for half-price each week! If you require a meat-free nosh, try Komeme for vegan empanadas. Prepared foods in stock include fresh-squeezed OJ and other juices, pupusas, hummus, guacamole. Dave's Gourmet Korean Food sells spicy kimchi and savory miso broth. Atwater's Village Bakery sells fresh-baked bread and pastries. If you've got a sweet tooth, stop by Nubia for a handful of their flavored honey straws or pick up a pint of clover honey.

Photo Credit: Angelenoliving.com
In keeping with the Eastside's trendy vibe, this farmer's market offers singular opportunities for vintage shopping. You'll find row of stalls adorned with vintage clothing, jewelry, and accessories. On top of the premium secondhand selection, you'll find handmade leather goods like handbags and watchbands, semi-precious stones, and beaded earrings and necklaces. Other treasures for sale at this eclectic open-air market include used books and records, crystals, and dried sage and other aromatic herbs.
Click here to read about vintage shopping in nearby Echo Park!
Whatever tantalizes you, you're sure to find something that appeals at the Silver Lake Farmer's Market.  Stop by Saturday morning or Tuesday afternoon to check out this one-of-a-kind display of the best artisanal food and merchandise the city has to offer!
Are you interested in learning more about the Silver Lake Farmer's Market and other weekly events in this historic Los Angeles neighborhood?  At Real Estate Unlimited, we make it our mission to develop an insider perspective on each area in this varied and exciting Southern California metropolis.  Call us to schedule a consultation today!