Eagle Rock, a Northeastern neighborhood in Los Angeles, California is home to approximately 30,000 people. This bohemian influenced portion of L.A. spans 4.25 square miles and is blooming today with art galleries, cafes, eateries, fashionable thrift stores, etc. Feel like a star while exploring this hip town near Hollywood.
If you've never been to Eagle Rock, or you're looking to revisit your favorite spots, take a walking tour of the neighborhood. Make your way down Colorado Boulevard and Eagle Rock Boulevard. This will give you the chance to explore Eagle Rock's famous shopping and dining at a leisurely pace. There are many vintage diners, antique shops, furniture stores, and bookstores to find in this Californian town.
Casa Bianca Stop by this neighborhood favorite for a pizza pie. Just look for the huge "Pizza Pie" sign on the building. Casa Bianca has been around for over 50 years and was founded by Sam Martorana, who brought over his family recipes and pizza experience from Chicago.
Read Books This used book store has all of the charms of a small, unique book shop. Come in for secondhand books, magazines, book club night, open mic night, tutoring, etc. This store is known for the quality of the books, which are curated by the owner.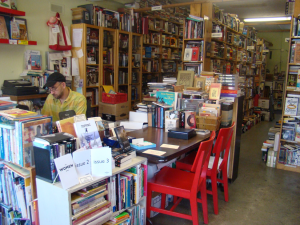 Photo Credit: https://thewomengroup.com/2013/06/18/now-available-at-read-books-and-new-magazines-the-women-group-issue-3/
Pat and Lorraine's Are you a Tarantino fan? Then you have to visit the diner from the famous scene in his film Reservoir Dogs. Drop in this diner for coffee and breakfast, but make sure you're hungry because the portions are large. This diner has been in Eagle Rock for more than 30 years. The Latino influenced menu features breakfast burritos, as well as traditional American cuisine. The food here is made with love.
Swork – Looking for a morning pick-me-up or some caffeine in the afternoon? Enjoy fair-trade coffee and tea at Swork, where you can connect to the WiFi and enjoy the community space started by Tricia Neal. This family café also features Sworkland, an indoor playground for children to enjoy while parents drink their coffee. This "interactive coffee bar" tests its drinks in its drink lab.
The Oinkster This "fast-casual" burger joint by Chef Andre Guerrero celebrates American cuisine in a location formerly known as Jim's Burgers. These shakes, burgers, onion, rings, pastrami sandwiches (and more) are delicious. There's even a $10-and-under menu for those seeking a more affordable option.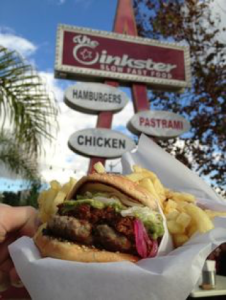 Photo Credit: https://www.pinterest.com/gidgete/eagle-rock-ca-home-sweet-home/
Street Food Cinema Enjoy a movie on the inflatable screen with your family and even your dog. This movie event was started five years ago by producers Heather Hope-Allison and Steven Allison to celebrate the best movies, local food, and local music.
Leanna Lin's Wonderland This is more than just a shop; it's a studio and art gallery as well where you can find crafts by independent designers and artists. Leanna Lin's Wonderland prides itself on its kitschy style and curates everything "cute." Come in to the DIY beading studio to work on your own creations.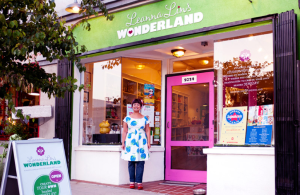 Photo Credit: https://leannalinswonderland.com/pages/about-us
Peekaboo Playland Looking for something to do with the kids? Peekaboo Playland offers an indoor playground with slides, toys, and more. It's also a popular spot for private parties and events.
Los Angeles Real Estate Unlimited is one of the best real estate companies serving the Los Angeles area. Visit our website to search listings for Eagle Rock real estate in Los Angeles.