Victor Heights is a hidden-gem of L.A. tucked just southeast of Echo Park. The neighborhood is known for its mystery and isolation, despite being in the center of Los Angeles. This quirky neighborhood is a mixture of Chinese and Hispanic neighborhood and rapidly developing townhouses and upscale neighborhoods.
Victor Heights is set largely on a large slope, giving a great view of the L.A. skyline. Despite being known for being disconnected from the rest of downtown, the neighborhood is connected to Chinatown by the bridges on Alpine, Sunset, and College. Echo Park and the Dodger's stadium are also only a short walk away!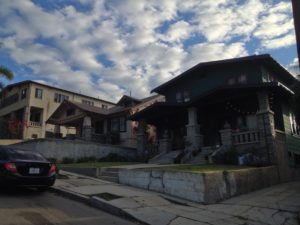 Photo Credit: Eric Brightwell
Victor Park has a history much more contemporary than most neighborhoods. Most famously, in 1992 a resident named Betty Oyama lived and coined the neighborhood the "Forgotten Edge," because, as she said, LAPD couldn't find Victor Heights. Stepping up to fill the vacancy left by the authorities, Betty Oyama successfully fought to establish a neighborhood watch. Nowadays, the most likely people to be prowling the streets are numerous production assistants that aide a number of films and TV shows being filmed in Victor Heights. Unlike some of the other downtown neighborhoods, Victor Heights lacks any real homogeneity in the architecture. Instead, in Victor Heights the dominant aesthetic remains a mix of major housing developments, family built-bungalows, and Spanish Colonial Revival houses.
The neighborhood's demographics are a picture of L.A. writ large. The population is mostly older Italians and Croatians that originally formed the neighborhood, supplanted by the newest wave of Asian and Latino immigrants. Most recently, lured in by new development and the appeal of the old-school reputation, younger professionals and hipsters have begun appearing in Victor Heights.
Although certainly a quirky mix of cultures and styles, Victor Heights also possesses a few odd natural quirks that draw in some bizarre wildlife. Feral parrots and wild peafowl wander the neighborhood, bringing an odd twist to inter-city life.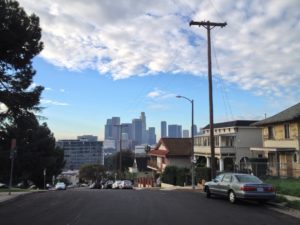 Photo Credit: Eric Brightwell
Victor Heights is almost entirely residential, but the no-nonsense Hispanic street-food styled Guisados provides homestyle braises on handmade corn tortillas. Featured in our Echo park dining guide, Guisados strives to make tacos "Just the way my mom used to make them." Guisados takes its name from the classic Hispanic street vendor scene. Try the Steak Picado, pairing flank steak with green bell peppers and bacon, while the extremely spicy Chiles Toreados offers habanero, serrano, jalapeno, and thai chiles on black beans.
If you're looking for a slice of sleepy residential L.A. that retains the mystery and history of a older era, be sure to check out Victor Heights.
Victor Heights and Echo Park have been served by Real Estate Unlimited since 1980. If you're new to the neighborhood, are interested in real estate help, or just want to get to know us better, feel free to contact us with any questions or concerns.