South Pasadena's Hometown Charm
While exploring Southern California, don't forget to take a look at South Pasadena real estate. You'll fall in love with the small, hometown charm of this city. Within Los Angeles County, South Pasadena is bordered by Los Angeles and Pasadena. This city, that covers approximately 3.5 square miles and is home to about 26,000 people, is located in the West San Gabriel Valley.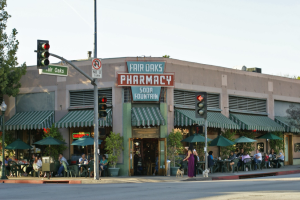 Photo Credit: https://lalofts.me/condos-lofts/south-pasadena/
Here are some reasons why South Pasadena is a charming hometown:
Tournament of Roses Parade: The city won the National Trophy for the Fishing Follies float in 2016.
Cawston Ostrich Farm: Since 1886, South Pasadena has been home to the first ostrich farm in the country. Once upon a time, guests would ride ostriches at the farm. Now, it's a cultural landmark.
Fair Oaks Pharmacy and Soda Fountain: For over 100 years, this pharmacy and soda fountain has been located at Mission Street and Fair Oaks Avenue (on the historic Route 66) in South Pasadena. Enjoy sundaes, milkshakes, coffee, lunch, and breakfast in vintage décor in this blast from the past.
Rialto Theater: This historic place is a one-screen movie theatre, built in 1925. It seats 1,200 movie goers and includes an orchestra pit. The new owner is planning on making it into a bar.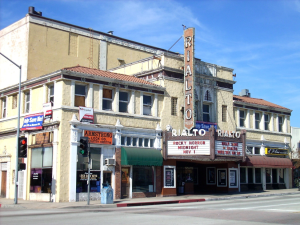 Photo Credit: https://kcrestorationinc.wordpress.com/tag/south-pasadena/
Film History: Because of its American, hometown charm, South Pasadena has been the location of many movies, including The Terminator, Legally Blonde, Back to the Future, 13 Going on 30, and much more.
Charlie's Coffee House: Stop in for a green tea macha latte, a frappuccino, iced coffee, or iced mochas. This coffee shop o Monterey Road is decorated like a highway, with stop signs and traffic light signs and vintage furniture. The burritos are great, too. Bring the kids and enjoy the outdoor seating.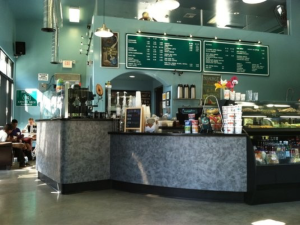 Photo Credit: https://www.pinterest.com/pin/271764158740861705/
Grassroots Natural Market & Kitchen: One of the best things about South Pasadena is the presence of small businesses. This family-owned grocery (since 1968) store features an organic juice bar, vitamins and supplements, and specialty groceries. This sustainable business also offers wine and vegan and gluten-free beer!
The Battery Books & Music: No town is complete without a good bookstore. Since 2010, this small business has been selling books, music, clothing, and jewelry. Come in to buy, sell, and trade books, or to enjoy the live music events.
Garfield Park: Enjoy the beautiful California weather with a day outdoors. Garfield Park on Mission Street and Park Avenue offers a playground, tennis courts, gazebos, picnic areas, and more for families to use.
While browsing South Pasadena real estate, be sure to view our listings at Real Estate Unlimited. We've been making shopping for real estate in Los Angeles easier for the past 30 years. Feel free to contact us.