Los Angeles has no shortage of poetic place names – and Silver Lake's Sunset Junction is one example. Sunset Junction sits at the street junction of Sunset Boulevard and Santa Monica Boulevard, both of which run from Sunset Junction down to the Pacific Ocean.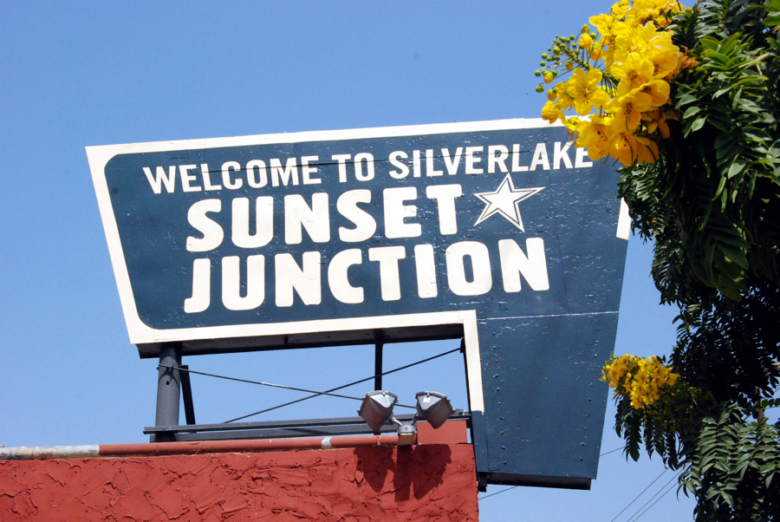 Photo Credit: Takesunset.com
Sunset Junction was once known as Hollywood Junction. In 1895, the Pasadena and Pacific Railway Company built an interurban rail line from downtown Los Angeles to Santa Monica, whose route ran along Sunset Boulevard to Sanborn Avenue, where it swerved west along the current alignment of Santa Monica Boulevard.
In 1905, the Los Angeles and Pacific Railway, successor to the Pasadena and Pacific, built a new branch northwest along Sunset Boulevard from Sanborn Avenue as a shortcut to its already-built train line on Hollywood Boulevard, creating the junction that can still be clearly seen in the existing street layout. Rail service ceased on both lines in the nineteen fifties, but the graceful bend of the intersection still gives Sunset Junction a hint of early 20th-century elegance.
Click here to read about famous midcentury homes in Silverlake!
Sunset Junction was also the site of the Black Cat Tavern, a historic gay and lesbian bar that was the site of one of the first protests by gay and lesbian activists, predating the 1969 Stonewall protest for two years. A Different Light Bookstore, a gay and lesbian bookstore and community space that eventually became a national chain with branches in New York City and San Francisco, was founded at 4014 Santa Monica Boulevard in 1979. The store functioned as a salon for the community, hosting readings by luminaries like memoirist Christopher Isherwood, beat poet Allen Ginsberg, surrealist novelist William S. Burroughs, and activist Larry Kramer.
From 1980 to 2011, Sunset Junction also hosted the Sunset Junction Street Fair, a bustling festival that closed off a large portion of Sunset Boulevard so that the gathered crowd could enjoy live music, food, street vendors, and carnival rides. Musical performers at the Sunset Junction Street Fair included Beck, Sleater-Kinney, the Supremes, and Chaka Khan.
Although the Sunset Junction Street Fair has shut down, revitalization is currently underway in Sunset Junction, with design firm All That Is Solid planning to create a giant iron saddle sculpture to serve as the center of a newly envisioned landscaped plaza at the intersection. Although the new sculpture was stalled for a few years, it is hoped like the public installation, named "BLOOMRS," will be going up soon. Right now, Sunset Junction's signal landmark is a large royal-blue signpost that towers above the intersection.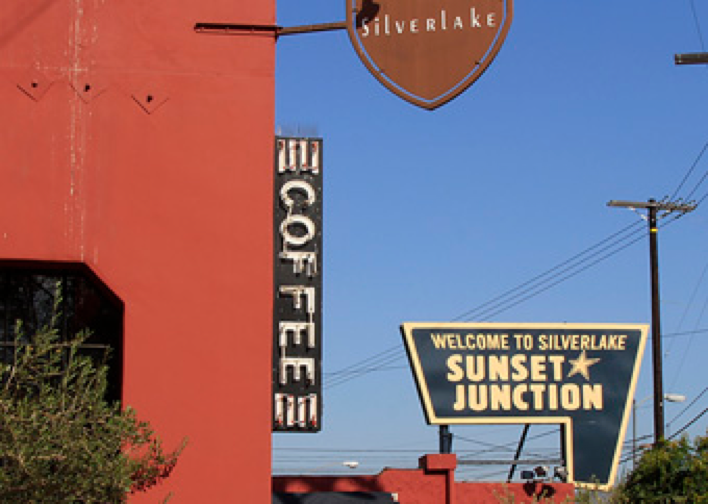 Photo Credit: Angelenoliving.com
Due to recent urban renewal, as well as spiking interest in the Silver Lake neighborhood, Sunset Junction is currently attracting attention for its eclectic mix of hip coffee shops, casual-dining restaurants and vintage boutiques. The focal point of this micro-district is a rambling, rust-colored stucco building from the 1920s, host to a growing cohort of community businesses. Intelligentsia Coffee, a Chicago transplant known for the intensity of its dark-roast drip coffee and the graceful arabesques traced into the foam atop its cappuccinos, is a favorite for locals in search of a steamy caffeine fix.
Café Stella, a bustling French bistro, serves up golden-brown pommes frites, peppery coq au vin and succulent mussels. The Cheese Store of Silverlake, easily the best charcuterie and fromagerie in the city, is a standout delicatessen in the best Parisian style.  The Town and Café Bakery serves a menu of fresh rolls and pastries along with more substantial brunch fare like salmon cakes and omelettes. Pazzo Gelato serves up soft Italian ice cream, including crunchy pistachio and crimson raspberry sorbetto and more contemporary flavors like thai tea and salted caramel.
Click here to read about more dining options in nearby Echo Park.  
Fashionistas and trendsetters will find plenty of tantalizing clothing and accessories at Sunset Junction. Upcycle headquarters Dean converts leather motorcycle jackets and members only windbreakers into stylish handbags and watchbands. Matrushka Construction combines clothing boutique with open studio, as owner-designer Laura Howe constructs elegant one-of-a-kind clothing onsite.  After dark, clubgoers line up outside the 4100 Bar, where you can sample cocktails in a luxurious, warmly-lit interior modeled after a Moroccan souk.
Los Angeles is legendary for its culture of constant reinvention, and Sunset Junction's emerging market and nightlife scene is a sterling example. If you're visiting Silver Lake, why not stop by the intersection of Sunset and Santa Monica to sample a coffee, try on a one-of-a-kind jacket, or take in the sunshine and local color?
At Real Estate Unlimited, we combine real-estate expertise with first-hand local knowledge, ensuring that every client is steered towards the perfect home in the perfect area. Silver Lake is just one of the historic Los Angeles neighborhoods where we show properties – call us for current property listings today!