Imagine being able to fish in the middle of Los Angeles and get a taste of nature and/or an escape without traveling too far. You can appreciate the beauty of natural elements while practicing a fun hobby in the city you call home through fishing in Echo Park.
Echo Park Lake                        
Fishing in Echo Park is available at Echo Park Lake; you can also fish in nearby lakes, including MacArthur Park Lake, Hollenbeck Park Lake, Belvedere Park Lake, Lincoln Park Lake, etc. Just make sure you have a California fishing license and that you check the Fishing and Hunting Regulations of the California Department of Fish and Wildlife (CDFW).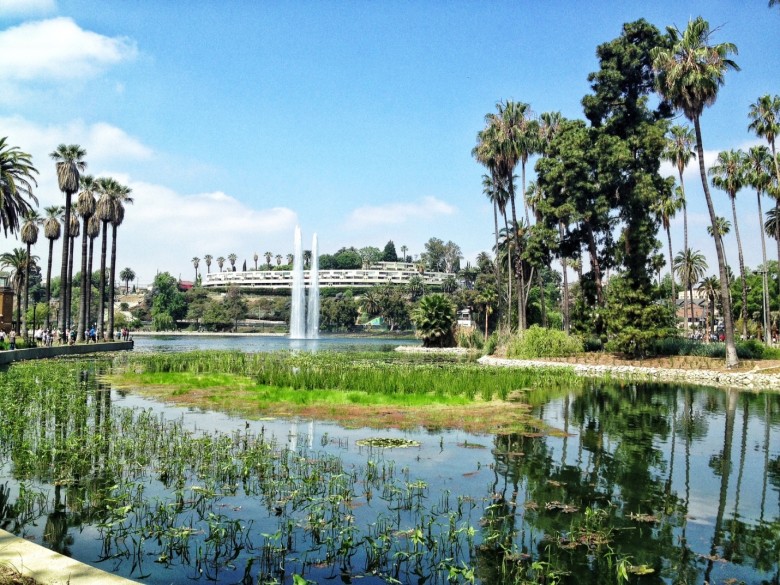 Echo Park Lake via Splash of Pretty
Echo Park Lake contains trout during the winter and catfish during all the other times of the year. Additionally, you may come across carp, bluegill and largemouth bass in the lake.
There are photos of people fishing at the lake since the late 1940s. Today, the city allows fishing at Echo Park Lake between the months of June and September. See the City of Los Angeles Department of Recreation and the Parks and Echo Park Recreation Center for more information.
Fishing in the City
Since 1993, the CDFW has provided a city program named Fishing in the City. If you can find an opportunity near you, it includes free fishing day clinics for people who want to fish for the first time. The clinics go over fishing methods, like how to catch fish and how to get it ready for dinner.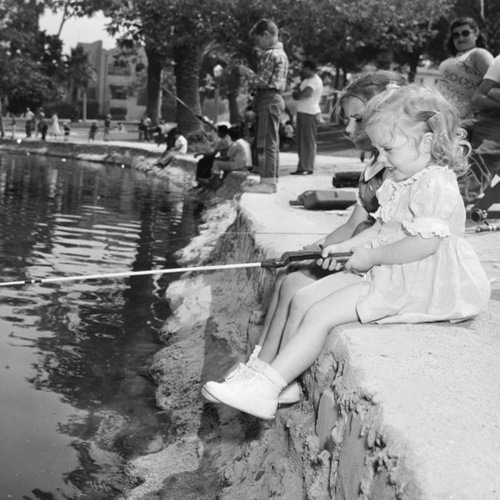 Girl fishing at Echo Park Lake in 1958 via Echo Park Forums
Free Fishing Days
Consider getting a California fishing license, because without one you could be fined for fishing at Echo Park Lake or other bodies of water in the state of California. Licenses are required for people who are 16-years-old and older. The city offers a couple days a year during which people can try fishing for free to see if it's something they enjoy. If so, the person can think about getting the license without paying for it upfront.
The Free Fishing Days always fall in July and September. The first one of the year was on July 4, 2015, and the next one will take place on September 5, 2015. The next Free Fishing Day is coming up very quickly, so get ready if you want to take advantage of it and try fishing this year.
While you're fishing in Echo Park Lake, check out the other things you can enjoy there. At Echo Park Lake, you can take out a pedal boat and take in the view from within the lake, walk on the trails surrounding the water and/or visit the famous lotus flower beds. Also, consider the real estate available to you in Echo Park.