The Gamble House is tucked neatly into the neighborhood sandwiched between the Arroyo Seco Park and Old Pasadena. The Gamble House is a testimony to both traditional American architecture and the fusion of cultures and ideals that have made Los Angeles such a unique city. Offering affordable tours Thursday through Sunday, the Gamble House offers a cultivated experience for those interested in architecture, Pasadena history, or a once-in-a-lifetime opportunity.
Photo Credit: Martin Green
The Gamble house was designed as a pleasant winter residence for David and Mary Gamble. David Gamble was a second generation member of the Procter & Gamble Company, and was retired at the turn of the 20 century. After spending some years in retirement in the vicinity of Pasadena, the Gambles decided to build a permanent home. In 1908 the Gamble House's lot was chosen on a the short, private street known as Westmoreland Place, purposefully avoiding South Orange Grove, aka "Millionaires Row."
While selecting their lot, the Gambles met the architect John Cole and his coworkers from the Greene & Greene architectural firm. Impressed by their work, the Gambles solicited the architects to begin working closely with Greene & Greene to design their new home. The draft of the house was completed in February of 1908, and ten months later the home was complete. David and Mary Gamble moved into the house and lived there until their deaths in 1923 and 1928 respectively. The Gamble family continued to own the house until 1966, when the city of Pasadena, along with the University of Southern California School of Architecture, purchased the house and began its transformation into a testimony to American Architecture.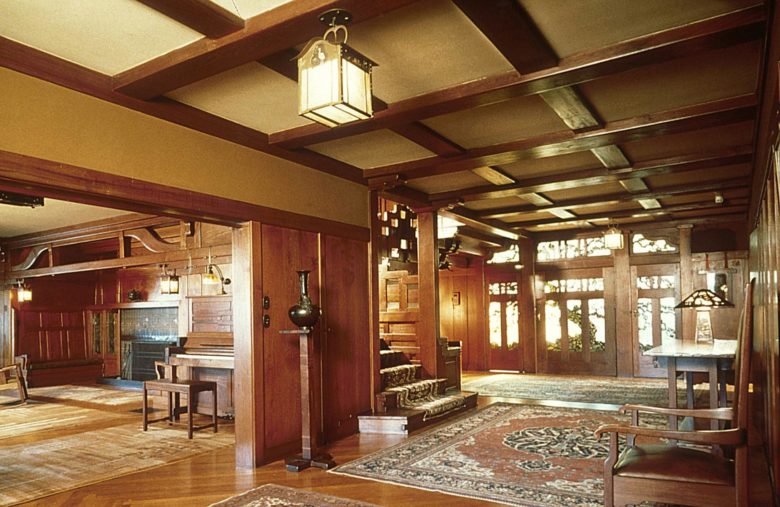 Photo Credit: Deasey/Penner
The Gamble house blends a variety of wood, including teak, maple, oak, cedar, and mahogany into sequences seeking to reveal contrast in the home. All of the furniture, custom built and designed by the architects, matches the inlay and surroundings of the home. Although the home was not quite as daring as some of its architectural siblings, the home's design has lasted the test of time, blending localized symmetrical spaces and forms to create an overall asymmetrical house. This mix of localized order in contrast to the greater disorder creates an unmistakable and unique style that belongs solely to the Gamble House.
If you're a student of architecture, someone with a taste for history, or are simply looking to visit a magnificent home, check out the Gamble House's guided tours!
Real Estate Unlimited is the one-stop-shop for your South Pasadena real estate needs, information about local historic locations, and the hotspots in the greater L.A. area.