El Arroyo Seco
For thousands of years, the area now known as Highland Park was home to the Hahamog'na people.  The seasonal, 25-mile river flowing through the canyon was an abundant source of steelhead trout, as well as valuable medicinal plants.  When explorer Gapsar de Portola dubbed his discovery "the dry stream" in 1770, he had not yet experienced the flood season, hence the misnomer of Arroyo Seco. De Portola failed to note the Hahamog'na housing built up on high ridges along the canyon, a clear indication of the river's potential.

Rendering of the Hahamog'na people and arrival of the Spaniards
The Hahamog'na, a band of the greater Tongva nation, originally settled in the area for strategic reasons—the river led to a basin that served as trading post for tribes all along the San Gabriel Mountains. The arrival of De Portola and the Spaniards led to the Hahamog'nas forced assimilation, and they soon become known as los Gabrieliños.
Today, remains of the first Hahamog'na settlement, where Chief Hahamog'na and De Portola shared their first peace pipe, can be found at the edge of Millard Canyon at Hahamog'na Watershed and Archaeological Park.
The Transformation of Sycamore Grove
At the turn of the 20th century, the area we now call Highland Park was a seedy, police-infested swath that served as the area's red light district. When the City of Los Angeles annexed the area in 1895, they had big plans to convert the land into LA's first suburb. Though today's Angelinos may not think "suburban" when they think of Highland Park, the city's project was a huge success, and soon Highland Park was a destination neighborhood for middle class families. Sycamore Grove Park, for instance, the once-central meeting point for prostitutes and their clients, became a popular venue for big band concerts and annual State Picnics, held as reunions of sorts for those who had migrated from the Midwest.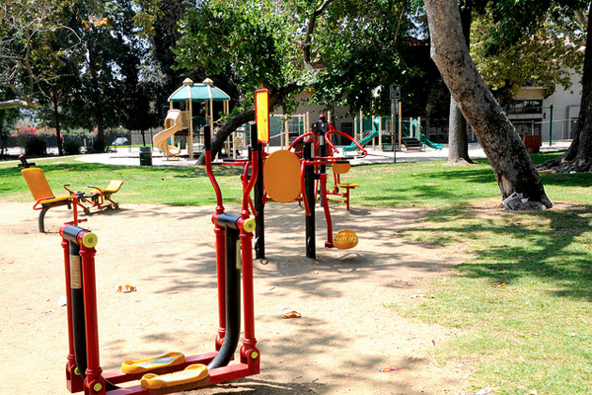 Recreation for all ages in Sycamore Grove Park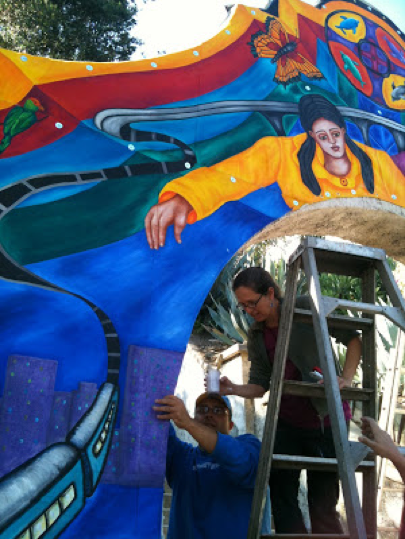 Hahamog'na mural creation at the Glenmary Archway
Today, the park is still thriving as a family recreation hotspot, with modern upgrades like outdoor gym equipment. Across the street at Glenmary Archway, you can enjoy the Hahamog'na Mural for a reminder of Highland Park's storied past.
If you are interested in real estate in Highland Park, feel free to contact our team at Los Angeles Real Estate Unlimited. We are happy to help you find a home in the city of Los Angeles.