Highland Park is famous for its cultural diversity, which means that it offers a wide range of culinary delights to choose from. Whatever you're hungry for, Highland Park has something to satisfy your palate. We've listed some of the best restaurants in this vibrant historical neighborhood, so that you can take your pick!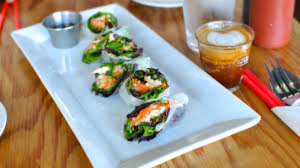 Photo Credit: Discover Los Angeles (https://www.discoverlosangeles.com/blog/best-restaurants-bars-highland-park)
Good Girl Dinette
The Good Girl is a "farm to noodle" Vietnamese restaurant, so all their ingredients are sourced from local SoCal farms. The dishes themselves are an imaginative twist on Vietnamese home cooking, like the Black Pepper Pork Confit and the Maple Coconut Bread Pudding. If you're in the mood for a classic Vietnamese dish, you can try "Grandma's Pho" or sample a hearty Curry Pot Pie with a golden biscuit topping.
Scoops
Ice cream flavors at Scoops are a daily surprise, with creative menu options like Pineapple Kool-Aid, Lemon and Thai Basil and Pistachio Rosewater. They also offer floats, sundaes, and unique toppings like tapioca berries and infused olive oil. Consistently rated high on service and atmosphere, Scoops is the perfect place to snag a cool summer treat.
Fanny's Restaurant
Fanny's is a relaxed family-style restaurant specializing in tortas, burritos, tacos, and other Mexican staples. Each dish on the menu is carefully crafted, allowing flavor to take center stage. Their standout Fanny's Special is a torta made with juicy carne asada and creamy avocado on a soft, toasted roll.
Kitchen Mouse
Kitchen Mouse specializes in "every day food," simple fare with an emphasis on home-baked cookies and cakes and fresh salads and sandwiches. Their menu is vegan and gluten-free, and each creation on the menu is designed to be healthy, satisfying, and delicious. The Tempeh Reuben and the Avocado TLT are customer favorites.
Sonny's Hideaway
For a more upscale dining experience, try this supper-club style restaurant. Sonny's Hideaway has a Mediterranean flair, with entrees like Grilled Octopus and Ricotta Dumplings. Sonny's also offers a rotating selection of exclusive cocktails like Strawberry Switchblade and Endless Summer – classic concoctions like the Gibson include twists like Japanese scallion instead of the more customary onion.
Maximiliano
Maximilano combines the heartiness of classic Italian with the inspired playfulness of an adventurous chef. You can try traditional fare like the Baked Polenta or the Mushroom Risotto, one of their famous thin-crust pizzas, or handmade pastas like Bombolotti and Tagliatelle.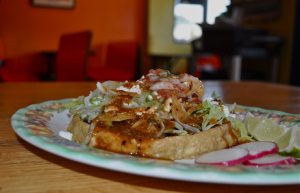 Photo credit: LA Weekly (https://www.laweekly.com/restaurants/10-best-restaurants-in-highland-park-5079572)
Metro Balderas
Metro Balderas is famed for its tacos, especially the eight distinct varieties of succulent Mexico-City style carnitas, which the chefs at Metro Balderas slow-cook to perfection. You can also sample delicious antojitos, as well as a unique menu of succulent juices and aguas frescas. Even in a neighborhood known for its stellar taco selection, Metro Balderas is a standout.
Antigua Bread
Antigua Bread is another popular stop among locals, most of all at breakfast time when they serve up heaping platters of fried plantains and black beans. Chilaquiles with Salsa Verde are a customer favorite, but morning menu options include chorizo and egg burritos and steak. Antigua Bread also has a small but tempting selection of baked goods, including soft baked rolls and buttery cookies.
Tropical Fruit and Juices
If you're in the mood for a refreshing smoothie, Tropical Fruit and Juices has you covered. Order a detox blend packed with superfoods like kale and goji berry, or a decadent chocolaty concoction with cinnamon or peanut butter. In addition to its fresh-squeezed juices, you can also find zesty vampiros – a seasonal tequila-infused variant of sangria – or request a combination of your very own.
Chez Antoine
Creperie by day and brasserie by night, Chez Antoine is the best place in town to find savory crepes.  Their menu highlights classic Parisian combos like their Ham and Gruyere Crepe, but the dessert menu is headed up Crème Brulee Crepe, a sugar-frosted remix of two French desserts. Their dinner menu includes delicacies like escargot and updated treats like their Baby Kale Salad and Rosemary Fries.
If you're interested in moving to this vibrant Los Angeles neighborhood, Real Estate Unlimited offers a variety of property listings in the area.  Feel free to call us for a consultation today!