Known for its innovative culinary tradition and colorful downtown marketplace, Highland Park is a truly original part of the Los Angeles area landscape. We've collected a list of lesser-known neighborhood gems. Read on for some insider tips on alternative stops in Highland Park!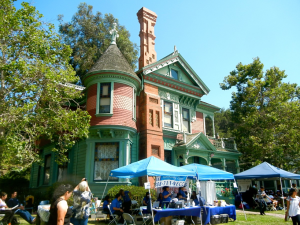 Photo credit: Los Angeles Love Affair

Heritage Museum
The Heritage Square Museum is a series of beautifully-maintained Victorian buildings arranged around a central courtyard. Each one is filled with displays related to Los Angeles history and culture during the first hundred years of California's statehood.  Volunteer docents dress in authentic period costume, and offer guided tours of the exhibits on site.
The Charles Lummis House
Located just across the arroyo from the Heritage Square Museum, the Charles Lummis House is the preserved homestead of Charles F. Lummis, a journalist and cultural historian who founded the Southwest Museum. The house itself was constructed by Navajo builderss, and includes architectural features reminiscent of traditional pueblo and California mission design. Turrets and ornaments give the exterior a castle-like appearance. The Lummis house is free to visit, and you can take a stroll around the garden, which highlights regional flora.
Donut Friend
Vegan food may be associated with colorful salads and crunchy tempeh burgers, but Donut Friend has decided to corner the market on vegan sweet treats. This quirky shop sells vegan donuts in an array of exotic flavors, each color-coded with its own bright icing. With the tagline, "Donuts. Done Differently," Donut Friend embraces innovative taste combinations like Toasted Marshmallow and Peanut Butter Banana. You can customize your donut with toppings like toasted coconut and tart cherry compote. Stop in to Donut Friend for an inventive take on an American classic.
Los Angeles Police Museum
San Francisco has Alcatraz, and Highland Park has this museum devoted to the history of the LAPD. You can look at a fleet of vintage police vehicles, view uniforms and archival photos, and also check out historical exhibits of famous Hollywood crimes like the Black Dahlia murders and a gripping multimedia presentation of the North Hollywood shootout. Steeped in atmosphere and local history, this museum is a must for anyone looking to step off the beaten path.
Galco's Soda Pop Stop
Galco's opened as Galco's Old World Grocery, an Italian delicatessen. When John Nese took over the store from his father, he decided to branch out into fizzy beverages of all kinds. Galco's includes local small-batch ginger ale and kombucha, vintage sodas like sarsaparilla and vanilla cream, and a display of imported sodas from south of the border. You can mix up a customized soda at their Soda Creation Station, or order an authentic Italian soda from a selection of flavors like hazelnut and raspberry.
Magnolia House
Highland Park is a trendy spot for local nightlife, so visitors looking for creative cocktails and fresh small plate appetizers are spoiled for choice. Magnolia Park is a standout. The atmosphere is fun and lively, with a convivial clientele and a fantastic Happy Hour menu. Their "Cocktail of the Moment" series includes unique options like an Orange Gin Blossom version of the classic cosmopolitan and the Magnolia House Sangria with blackcurrant syrup. Menu options include Pastrami-Cured Pork Belly and Korean Fried Chicken Wings.
Mount Analog
A vintage store with curatorial flair, Mount Analog specializes in new and used vinyl, cassettes, books, foreign film, clothing, art, and posters. The store doubles as national headquarters for Finders Keepers Records and the exclusive Yankee outlet for the B-Music Collective, a UK label focused on psychedelic music. They also host live music events and pop-up art exhibits, so check their Facebook page for an updated schedule before you visit.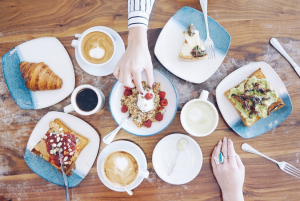 Photo credit: The True Spoon

Civil Coffee
Serving up artisan espresso drinks with Coava and Heart Roasters coffee beans, Civil Coffee is the perfect place to get away from the crowds on Figueroa Avenue. Pair your coffee with a golden slice of Parisian-style Mushroom Quiche or a plate of creamy Avocado Toast on homemade brioche. Their cold brew selection is a great base for iced drinks on sunny days.
The Hermosillo
The Hermosillo was once known as the Hermosillo Club – the club's vintage sign still glows over the bar's front door. Inside, you can see vintage Mexican movie posters over comfy banquette tables and a shuffleboard court for a friendly competition. The relaxed social atmosphere is the perfect setting to sample an impressive menu of local craft beers and regional wines, including bottles from Argentina and Mexico. Bar bite highlights include tangy Fried Pickles and Steamed Pork Buns with spicy yuzu mayo.
Check out these eclectic alternatives for a unique experience in this vibrant Los Angeles neighborhood!
Are you interested in learning more about the rich cultural variety on offer in Highland Park? Real Estate Unlimited can provide you with in-depth information on this and other Los Angeles area neighborhoods. Call us to schedule a consultation today!