Earlier on the blog, we covered New Eateries in Echo Park. Today, we'd like to explore some of the vegan options in the neighborhood. If you're vegan and living in Echo Park, or thinking of moving to Echo Park, this is the post for you!
Veganism & Benefits A vegan diet excludes dairy, meat and eggs from food, as well as anything that comes from animals. Many people choose a vegan lifestyle because of the maltreatment of animals in the food industry and/or because of the negative impact the meat industry has on the environment.
A vegan diet is mostly compromised of vegetables and can contain fruit, beans, soy, tempeh and satay. Many people on a vegan diet will experience weight loss and benefit from the natural vitamins and minerals (protein, iron, calcium, etc.) in the produce they eat.
The Vegan Scene in Echo Park These vegan restaurants support local farmers, and thus support local businesses. They support the concept that we should know where our food comes from and we should eat high quality, organic produce.
Sage Vegan Bistro This restaurant believes in the "from the field to the table" mentality and supports the "farm to table movement." Sage Vegan Bistro, on W Sunset Blvd in Echo Park, carries menu items created with produce that is in season from local farms. Sage offers a brunch menu, lunch menu and dinner menu. There's also locations in Culver City and Pasadena, a mobile food truck, and the same owner runs Kindkreme (a vegan ice cream store). Stop by Sage Vegan Bistro for lunches like the buffalo chicken wing salad or the tempeh avocado pesto burger.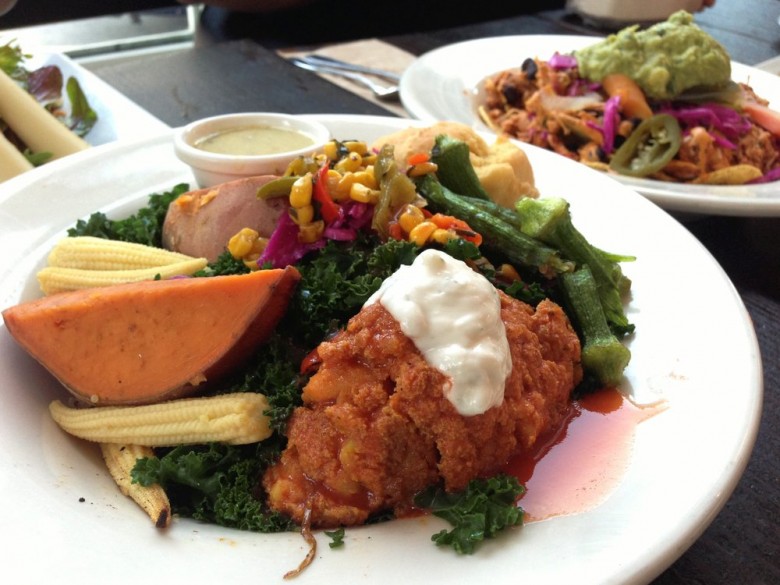 Bowl of Soul via Yelp
Elf Cafe El Cafe is another farm to table establishment. This restaurant features Eastern Mediterranean food and has been open since 2006. The original chef was Lebanese and the owners were inspired by Greek influences. The current chef, Dave Martinez, brings elegance and creativity to the menu. Some dishes to enjoy at Elf Cafe include the baked tarte with mushroom, caramelized onions and mozzarella; the chickpea flour crepes with truffle cream, and the kofta with saffron cous cous.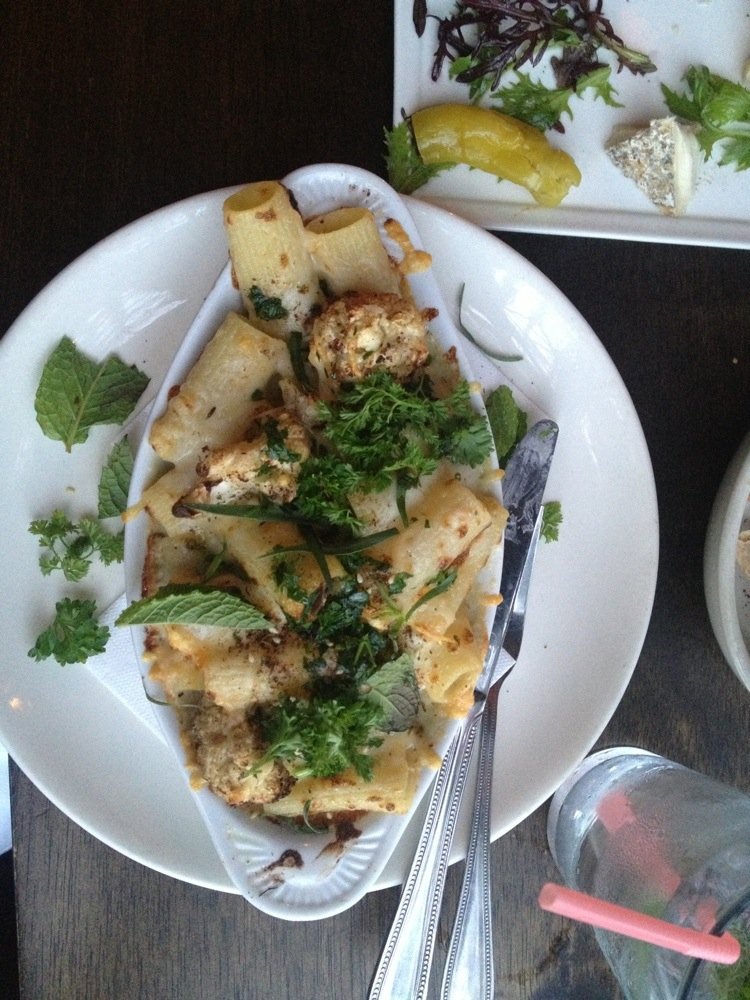 Fromage Rigatoni with Charred Cauliflower via Yelp
Vegan House Vegan House offers vegan Thai cuisine in an environment that feels like home. The Thai menu offers favorites, such as pad thai, orange soy chicken, satay chicken and spring rolls. Also stop by for their creative sushi items, including grilled veggie sushi. Don't forget dessert; try the coconut ice cream. This is Thai food done right with healthy cooking as the priority. Tip: there's free parking towards the back of the building.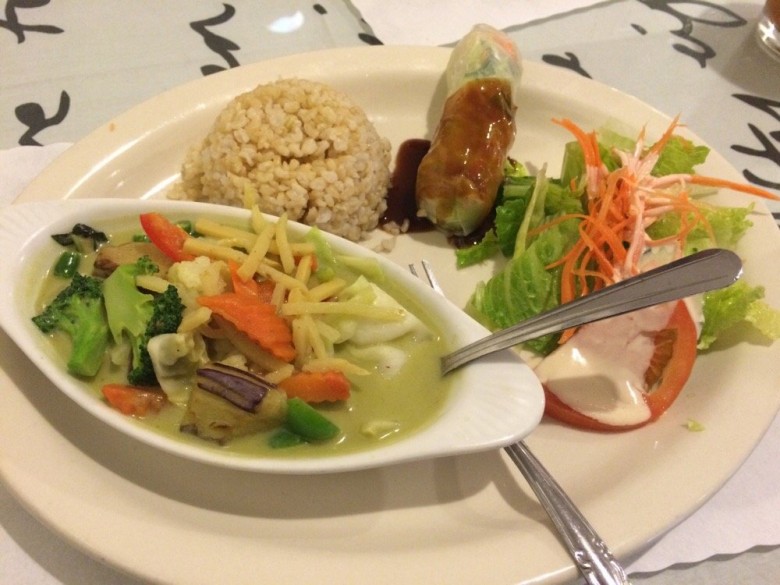 Green Curry via Yelp
Tribal Cafe Tribal Cafe calls itself the "the Eat Good Do Good Cafe." This vegan restaurant definitely has flair with its colorful and attention-grabbing decor. Patrons of the Tribal Cafe enjoy deli sandwiches, espresso, fruit juice, green smoothies and a variety of dishes. The veggie mushroom burger, spinach and mushroom tamale, Reuben tempeh sandwich, spicy Filipino chicken adobo panini and the Asian veggie wrap all look equally tempting and appealing. In addition to the healthy and delicious menu, Tribal Cafe offers open mic nights, which are recorded for YouTube, and also hosts local cultural events (such as art shows).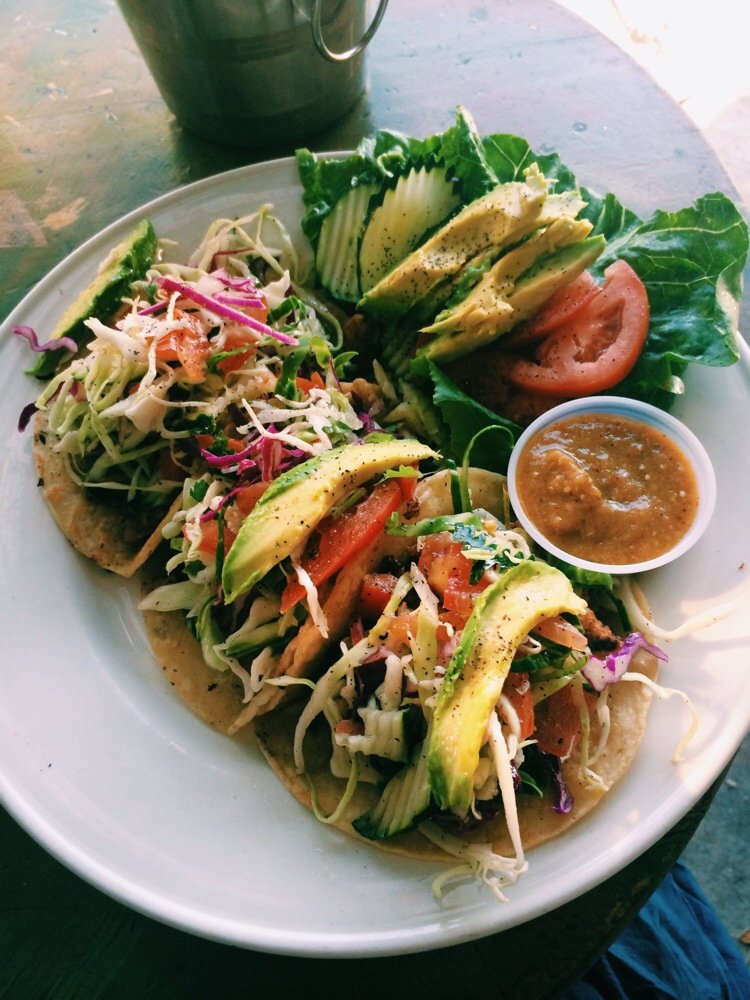 Tempeh Tacos via Yelp
Bon appetit!