Discovering Echo Park Lake
Located just off of the Hollywood Freeway, Echo Park Lake is a refreshing example of the Echo Park neighborhood's wide offering of exciting opportunities. The Lake is a place to exercise, relax, and enjoy the company of others. Besides the friendly faces and sunny atmosphere, Echo Park Lake offers two pools, a community recreation center, cafe, and a pedal house. Don't forget to bring the family dog!

Photo Credit: Black & Veatch
Echo Park Lake is newly renovated, given a fresh face by the city of Los Angeles. By 2006, the lake was heavily polluted and congested, turning what was once a place of scenic community into an eyesore. However, in August 2015 Echo Park Lake reopened having been entirely cleaned and boasting a new built-in wetlands that provides algae maintenance and improves water quality. Echo Park has never been more scenic and clean! Walking commutes or afternoon strolls with the family through the bustling park are more common than ever.
Echo Park's Recreation Center offers a wide variety of programs for all ages. Examples of the classes on offer include ballet, gymnastics, and a fitness boot camp! The center hosts coed softball and volleyball competitions for those looking for a little friendly competition. For parents with young children (ages 5 – 12) the Recreation Center also offers an after-school program offering homework assistance, sports game, arts and crafts, and more! Those with adolescent children (ages 3 – 5) can enroll their kids in Sunshine Academy at the Echo Park Youth Center for a head-start on their education.
Offering both a shallow pool, and a more traditional deep pool, Echo Park boasts a number of water sports available to any residents of the neighborhood. The Echo Park Pool facility offers team sports including Swim, Water Polo, and Diving, as well as swimming lessons and aquatic aerobics classes. Interested in part-time work, or giving back to your community? Try the adult or junior lifeguard training programs to spice up your summer.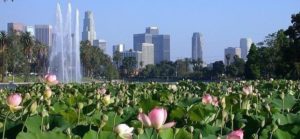 Photo Credit: L.A. 13th District
For those looking for the traditional Echo Park Lake experience, be sure to check out the Echo Park pedal boat rental facility! For $10 an adult and $5 a child, you can cruise around the beautiful lake in style! Interested in something more with a little more oomph? Rent out a canoe for a few laps of the lake complete with a guide for those with less experience on water. Visitors more interested in a romantic afternoon should try a leisurely half-hour gondola ride for a little taste of the Venetian experience. Feeling peckish? Don't forget to stop by the Echo Park Cafe, offering a variety of non-alchoholic beverages with full espresso bar, pastries, and both breakfast and lunch dishes.
Be sure to discover Echo Park Lake today!
Echo Park Lake is just one of the many attractions of living in the Echo Park area. If you're interested in more information about the Echo Park lifestyle, please contact us at Real Estate Unlimited!